Charleston, SC (June 1, 2023) – NAFC is proud to name PBE/Tranquility as a 2023 Trusted Partner.
The National Association for Continence, the nation's leading advocate for people living with bladder and bowel disorders, announced today PBE's recommittment to NAFC's Trusted Partner Program. NAFC Trusted Partners are organizations that have demonstrated an industry-leading standard for incontinence care product quality and customer service.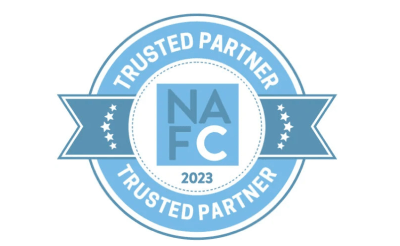 For more than 30 years, the NAFC has worked directly with members of the industry to fulfill its mission of educating patients and providing access to effective, proven products. Trusted Partners are selected following a rigorous review process that ensures they meet or exceed customer expectations for product excellence, value, and responsiveness.
"NAFC seeks to provide consumers with information new innovations and ways to treat their condition," said Steve Gregg, executive director of the non-profit NAFC. "As the foremost voice for those facing incontinence, we have a responsibility to make certain that the companies we recommend pass a very high bar. PBE's Tranquility offers extremely high quality absorbent products, making them a great recommendation for adult incontinence needs."
ABOUT PBE & TRANQUILITY
PBE's Tranquility® brand of premium superabsorbent products help people manage their most challenging incontinence care needs with higher-performing absorbent protection – so they can enjoy the comfort, confidence and freedom to live well and focus on the things that matter most. Choose the product style that fits your life, including disposable tape-tab briefs, pull-on underwear, pads, underpads, extra care products and specialty disposable swimwear. Select from the largest range of sizes available, from youth to 5XL bariatric. Now available in three levels of protection to meet individual needs, including our refreshed Tranquility Essential lineup that delivers reliable protection and is a great option for Medicaid.
Inspired by personal experiences with loved ones who deserved better incontinence solutions, Tranquility is part of a family-owned company that relentlessly perfects the most absorbent products – delivering Real Life Protection for real, everyday demands.