A PEOPLE COMPANY
Join a team that changes lives at Principle Business Enterprises. We're a family run, values-driven organization with big hearts and true passion about what we do. We have openings in our corporate office and in our manufacturing operations for skilled, technical and entry-level positions, available across all shifts so you can find a position that fits your life.
See Our Manufacturing Jobs First-Hand
---
Entry-level positions available starting over $16/hour
Skilled and Technical positions available starting over $20/hour
Opportunities to grow with us – up to over $30/hour
Enjoy food samples from PBE's Chef
Apply online today to meet our team, learn about exceptional benefits, tour the plant and see how we work first-hand.
One of the Region's Best Benefits Packages
Family-First Flexibility and Support
Personal paid time that can be used in as little as 15 minute increments – take as much or as little time you need
Up to 6 weeks paid parental leave
Paid breaks
Emergency backup care for children and adult dependents, 10 days of subsidized care per year
Healthcare and Wellness
Healthcare with no out-of-pocket cost and free prescription drugs
Onsite café featuring low-cost, chef-prepared meals
Free access to a certified health coach
Wellness equipment and membership reimbursement
Outdoor walking/running trail on property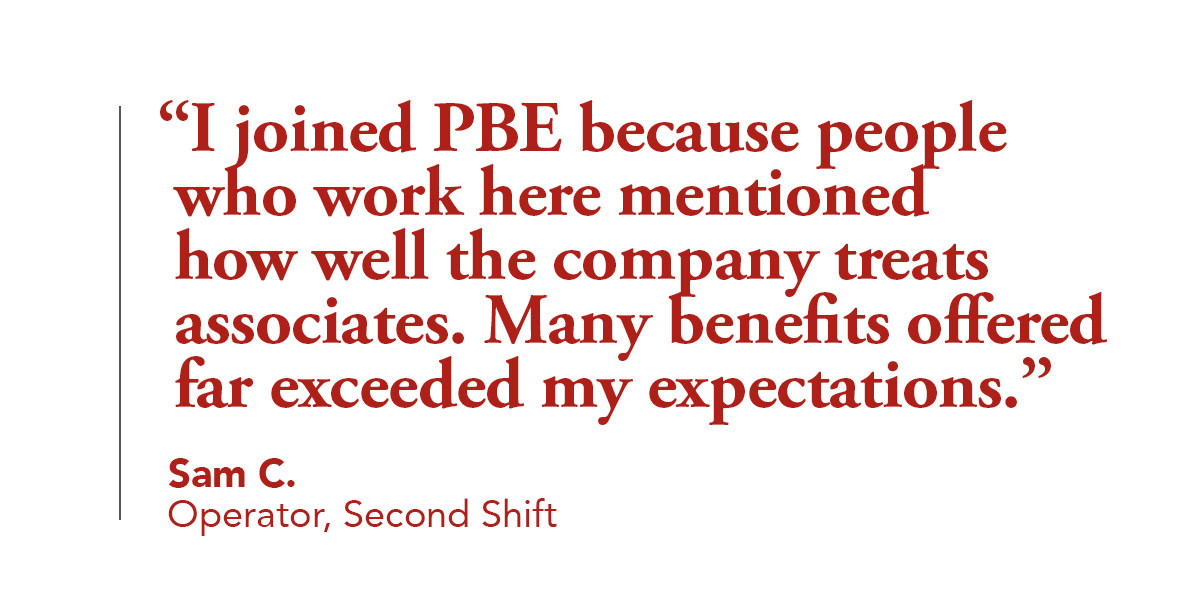 Who We Are
You're treated as so much more than "a number" here. We focus on supporting and growing our team members. Our mission is to uplift, enlighten, and enrich the lives of our Assoicates as well as the thousands who rely on our products daily to live with greater dignity, freedom, and confidence. Come work with purpose.
Be part of a family-run company focused on creating a positive, productive, and safe work experience
Work in a team built on collaboration, trust, respect, and responsibility
Grow to your potential with coaching, training, and tuition support opportunities