A PEOPLE COMPANY
Join a team that changes lives at Principle Business Enterprises. We're a family run, values-driven organization with big hearts and true passion about what we do. We have openings in our corporate office and in our manufacturing operations for skilled, technical and entry-level positions, available across all shifts so you can find a position that fits your life.
See Our Manufacturing Jobs First-Hand
---
Entry-level positions available starting over $17/hour + $1.00 shift differential for 2nd and 3rd shifts
Skilled and Technical positions available starting over $20/hour
Opportunities to grow with us – up to over $30/hour
Enjoy food samples from PBE's Chef
Apply online today to meet our team, learn about exceptional benefits, tour the plant and see how we work first-hand.
One of the Region's Best Benefits Packages
Healthcare and Wellness
Healthcare with no out-of-pocket cost and free prescription drugs
PBE offers free healthcare services through the Perrysburg Health and Wellness Center. Associates enrolled in a PBE-sponsored health insurance plan receive over 100 of the most common medication prescriptions, as well as non-urgent primary care visits and lab testing, for free.
Onsite café featuring low-cost, chef-prepared meals
Lots of menu items to choose from, including daily specials, made-from-scratch soups, a dozen drink options and build-your-own salads.
Free access to a certified health coach
Easy access to confidential and professional solution-focused counseling and personal coaching support to help you manage stress, weight, nutrition and other challenges in your life.
Wellness equipment and membership reimbursement
PBE reimburses Associates 50% (up to $150 per year) for the cost of membership fees for health and fitness facilities, fitness equipment purchases, personal training fees, and other health and wellness costs.
Outdoor walking/running trail on property
Stay fit and get some fresh air during your break by taking a stroll around our campus, including the serene and picturesque Pine Lake.
Family-First Flexibility and Support
Vacation, sick and personal paid time off
PBE encourages you to take time off for rest and relaxation from work duties by providing paid vacation time. You also receive paid time off – available to use in as little as 15-minute increments – to tend to personal needs, including illness, medical appointments, family obligations or personal matters.
Paid breaks
Working with your manager or supervisor, you can schedule up to 40 minutes per day of paid meal and rest breaks.
Up to 6 weeks paid parental leave
PBE provides up to six weeks of paid leave for parents of newborn or newly adopted children. Take the time you need to get acquainted with your new treasure.
Your job will be here when you return.
Free family emergency care
Receive 10 days of subsidized backup care per year for your children and immediate adult family members, as well as a free membership to Care.com's Care@Work program, which provides additional low-cost child and adult backup care options. It also offers senior care planning plus a database of screened nannies, housekeepers, dogwalkers and more.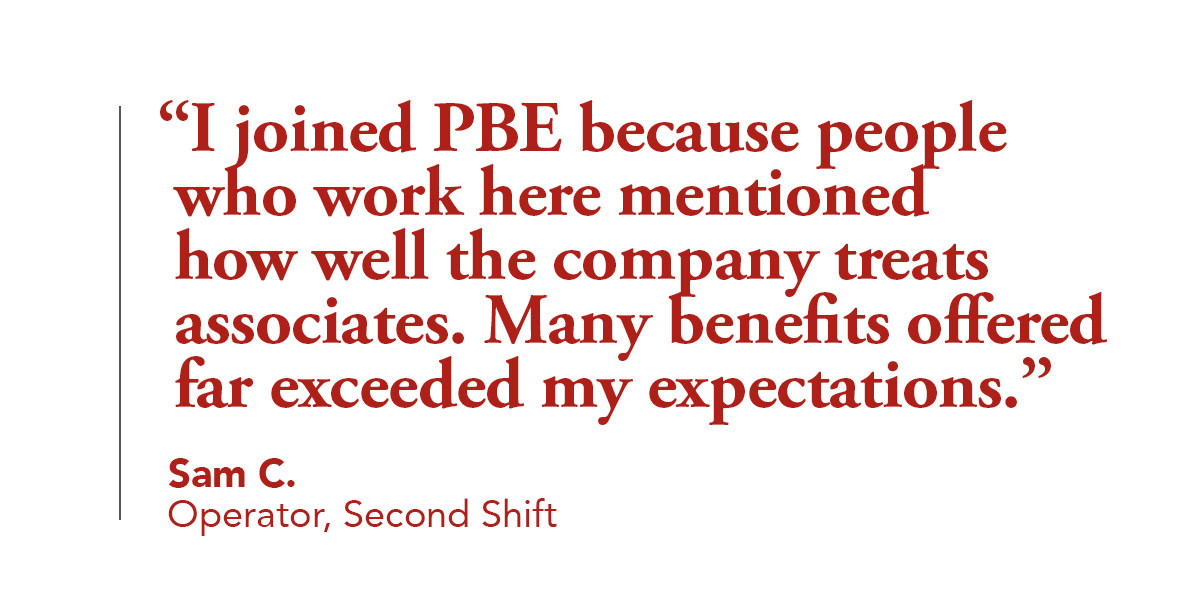 Health Insurance and 401(k)
A range of health plans to fit your needs
PBE offers health plans starting at less than $16/month* for single-coverage premiums. Other options range from $73 –$143 per month for single coverage, depending on deductible. Plus, PBE has partnered with Vive Benefits to provide short-term, 0% loans** to help cover the cost of unexpected medical costs.
* Rate is for single-member Consumer-Driven Health Plan. Higher rates apply to other plans and additional member coverage.
** Loan is available for Consumer-Driven Health Plan.
*** Through UnitedHealthcare, UMR and HealthSCOPE Benefits creates and publishes the Machine-Readable Files on behalf of Principle Business Enterprises. To link to the Machine-Readable Files, please click on the URL provided:  transparency-in-coverage.uhc.com
Get rewarded for planning your future
Under PBE's 401(k) match program, when Associates put a portion of their paycheck into retirement savings, the company matches a percentage of that contribution:
100% match on the first 1% contributed
50% match on the next 5% contributed
So – if an Associate contribute 6% (or more), PBE will add an extra 3.5% match into their 401(k).
Who We Are
You're treated as so much more than "a number" here. We focus on supporting and growing our team members. Our mission is to uplift, enlighten, and enrich the lives of our Assoicates as well as the thousands who rely on our products daily to live with greater dignity, freedom, and confidence. Come work with purpose.
Be part of a family-run company focused on creating a positive, productive, and safe work experience
Work in a team built on collaboration, trust, respect, and responsibility
Grow to your potential with coaching, training, and tuition support opportunities