PBE, Tranquility spotlighted in Nonwoven Industry Magazine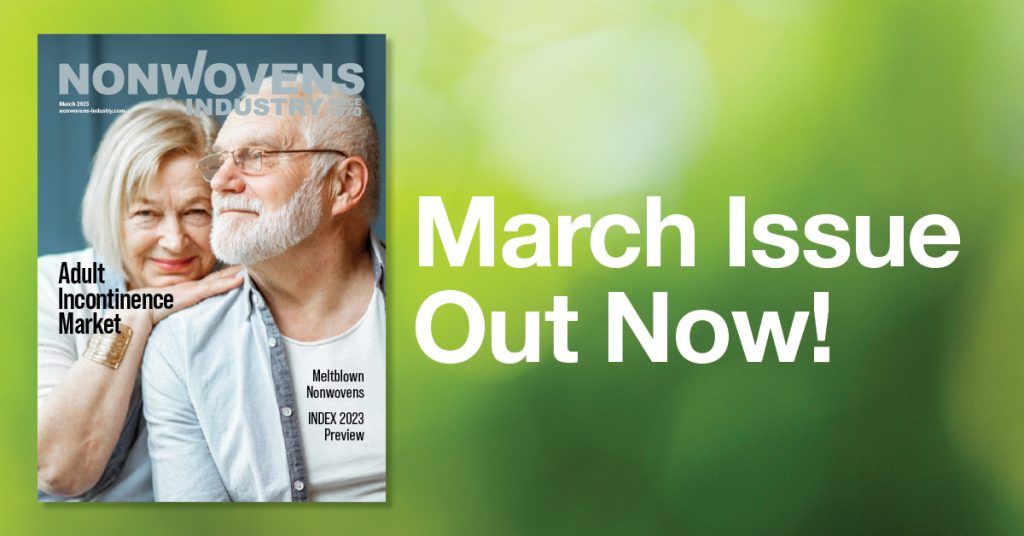 Principle Business Enterprises, Inc. was recently featured in the March issue's cover story of Nonwovens Industry, a leading publication in the global engineered fabrics trade. In the article, titled "Growth Continues for Adult Incontinence Products Market," PBE and its flagship Tranquility® brand of superabsorbent products are among a handful of incontinence care manufacturers sharing insights on trends in the adult hygienic products market.
Regarding Tranquility's latest product innovations, Ann Hertzfeld, PBE VP of Research and Development, highlighted the refreshed Tranquility Essential® sub-brand as a reimbursement-friendly solution for dealers, distributors and consumers. 
"Many of these products are designed to meet the strictest state Medicaid performance requirements, making them a great option for wearers and product suppliers through reimbursement programs," she stated.
Available in briefs, pull-on underwear, booster pads and underpads, Tranquility Essential is available in two protection levels that support comfort and confidence for those with moderate to heavy incontinence. The product line also features Tranquility's impressive range of sizes, including hard-to-find youth sizes that help bridge the gap when a child has outgrown toddler diapers and youth pull-ons, but is not ready for adult-sized items. With adult sizes up to 2XL, the Essential portfolio continues Tranquility's role as a pioneer of plus-sized options, with offerings up to 5XL and 108" waist fits in its Tranquility Premium line of AIR-Plus™ Bariatric Briefs.
Like all Tranquility items designed with a superabsorbent, high-capacity core, Hertzfeld noted, Essential products offer Real Life Protection, guaranteeing they will absorb and contain their stated fluid capacity no matter how much pressure is applied during everyday activities.
"We have a continued focus on compassion-driven innovation through rigorous research and testing," she said. "Unique to the industry, our C.U.P. (Capacity Under Pressure) test methodology allows us to ensure that Tranquility products will retain their stated fluid capacity so that people may go about their daily activities with confidence. We continually look for ways to improve our products to provide security from leakage."

When asked about ways to help those experiencing incontinence-related social stigmas or struggling to find the right options for their needs, Hertzfeld pointed out that Tranquility is working to address these challenges by providing educational resources for consumers and caregivers. Examples include providing direct access to a dedicated, U.S.-based customer service team; sharing new blog articles and email newsletters with consumers every month; and offering a variety of product training options to supplier and clinical partners.
"By addressing these challenges, Tranquility aims to make it easier for people with incontinence to find the right products and manage their condition with confidence and dignity," she said.
For more information about Tranquility, call 1-866-865-6101, visit www.tranquilityproducts.com or follow us on Facebook @TranquilityProducts.
About Nonwovens Industry
Nonwovens Industry is committed to influencing global nonwovens discourse on an ongoing basis with elite editorial content. Between the website, email and social media, more than 50,000 reader connections are made in daily, weekly and monthly formats on the basis of that content. Nonwovens Industry is therefore an essential resource for moving an advertiser's unique selling propositions to market. For more information on Nonwovens Industry, please visit Nonwovens-industry.com.
About Tranquility
Tranquility, the flagship brand of Principle Business Enterprises, Inc., is a leader in high-performance incontinence care products. Inspired by personal experiences with loved ones who deserved better incontinence solutions, we relentlessly perfect the most absorbent products to deliver Real Life Protection for real, everyday demands. For more information about Tranquility, call 1.866.865.6101, visit www.tranquilityproducts.com or follow us on Facebook @TranquilityProducts.