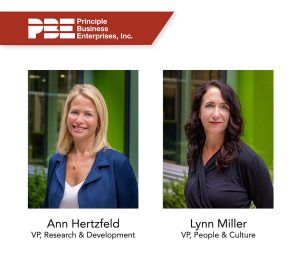 DUNBRIDGE, Ohio, October 26, 2022 — Principle Business Enterprises, Inc. (PBE) today announced the promotion of Ann Hertzfeld, Vice President of Research and Development (R&D) and the addition of Lynn Miller, Vice President of People and Culture. These two senior leaders will advance PBE's commitment to uplifting the lives of those it serves, which includes providing superior protection to our customers and the best manufacturing jobs in Northwest Ohio to its Associates.
"Both Ann and Lynn bring an insatiable curiosity and drive to improve the lives of those we aim to reach." Andrew Stocking, PBE's President commented. "Ann's understanding of our customer needs paired with a deep knowledge of our products will fuel our innovation engine for years to come. Lynn's knowledge of building an engaged workforce will allow PBE to continue to set the standard for what it means to be a top place to work."
Ann Hertzfeld joined PBE in 2016 to manage Customer Experience. She quickly developed empathy for our customers and their needs, migrating into a succession of more senior roles in the marketing department, prior to her new role as Vice President of R&D. Ann has spent over 20 years supporting consumer-branded organizations, their products and customers. She worked for Calphalon, part of Newell Brands, for 13 years in various customer-focused roles. She was a brand champion and supported customer needs, working closely with the operation teams to continuously improve the consumer and Associate experience. Ann graduated from Bowling Green State University with a bachelor's degree in Business and Marketing.
Lynn's passion for people is demonstrated throughout her over 25 years in Human Resource (HR) roles. She was recently the Head of HR Business Operations for Kalmbach Feeds Inc., a regional leader in animal nutrition, where she supported HR needs for the company's manufacturing, logistics and sales functions. Lynn also held leadership positions with renowned organizations such as Domino's Pizza Corporation, the largest pizza company in the world; Hanover Insurance Group, a national protector of business and individual assets; and The Toledo Museum of Art, an internationally recognized local gem. Lynn has a bachelor's degree in psychology from Bowling Green State University and is a certified Human Resources Business Partner through the Society for Human Resource Management (SHRM). She is also trained in the Myers Briggs, Caliber and Predictive Index (PI), which PBE uses to better understand Associate needs and build effective teams.
---
ABOUT PRINCIPLE BUSINESS ENTERPRISES
Principle Business Enterprises (PBE), Inc. manufactures high-performance absorbent products and footwear safety solutions with applications in healthcare, industrial processing and at-home use. PBE is a family-owned business with two locations in northwest Ohio. Founded in 1961, PBE has maintained a mission to be a principle-centered business that uplifts, enlightens and enriches the lives of those it serves through developing an exceptional workplace environment for its Associates and innovating products that dramatically improve the quality of life for its customers. Visit principlebusinessenterprises.com for more information.
Contact: Kristopher Keating, (800) 467-3224
SOURCE: Principle Business Enterprises, Inc.